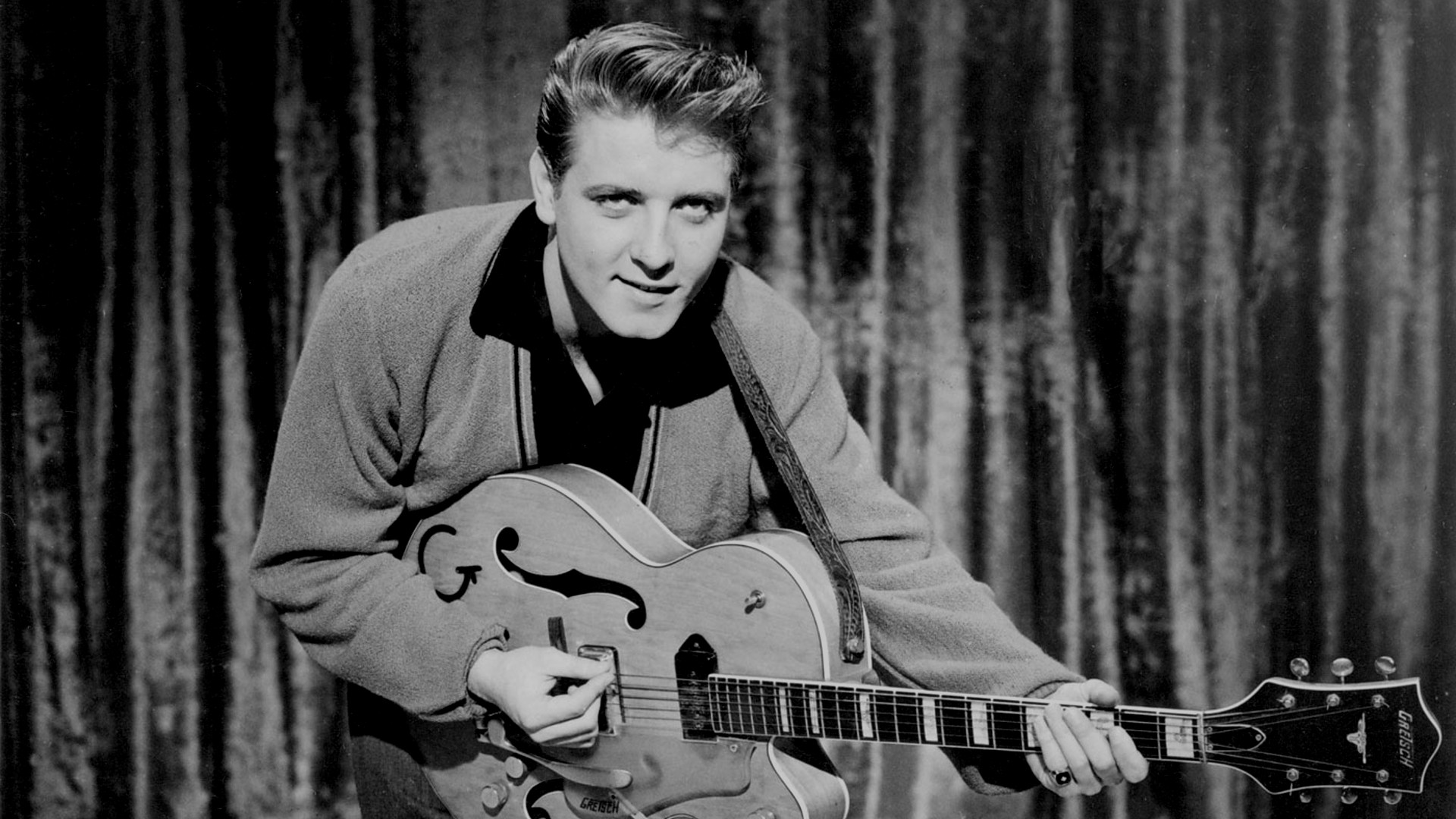 "Rengeteg dal született korábban arról, milyen fantasztikus dolog is a nyár. Arról viszont egy sem, hogy miféle nehézségeket élhet meg az ember közben. Úgy döntöttünk, hogy mi írjuk meg az első dalt, ami az utóbbiról szól − konkrétan arról, mit érez a kamasz, aki pár dollárért gürizik a nyári hőségben, és a végén még a barátnőjét sem sikerül elvinnie sehová a sok túlóra miatt" – mesélte egy interjúban a Summertime Blues társszerzője, Jerry Capehart. A szóban forgó dalt a rock James Deanje, Eddie Cochran írta (részben), énekelte és gitározta 1958-ban. A csupán 21 évesen autóbalesetben elhunyt Cochran munkássága a Beatlesől kezdve egészen a Motörhead Lemmy Kilmisteréig későbbi rocksztárok százaira gyakorolt jelentős hatást. Legnagyobb slágere, a Summertime Blues a 8. helyig jutott az amerikai slágerlistán, mára pedig a rock and roll műfaj egyik örökbecsű klasszikusává nemesedett: a neves Rolling Stone magazin a minden idők 500 legfontosabb dalát felsoroló listáján a 73. helyet adta neki. Lássuk hát az őseredeti nótát, valamint a belőle készült legforróbb hangulatú feldolgozásokat!
Eddie Cochran – Summertime Blues (1958)
Cochran 19 évesen szabadította a világra nyári klasszikusát, amelynek felvételén az énekes-gitároson kívül profi stúdiózenészek, valamint a barátnője, Sharon Sheeley működtek közre. A legtöbb időt nem az ének vagy a hangszeres részek rögzítése igényelte, hanem Sheeley tapsolásának megörökítése, az ifjú hölgy ugyanis zavarában rendszeresen kiesett a ritmusból, így Cochran kénytelen volt a drága stúdióidőt arra pazarolni, hogy alapos tapsoktatásban részesítse.
A surf rock királyai debütáló albumukon tisztelegtek a dal feldolgozásával az ekkor már két éve halott Cochran előtt. A szólóénekesi feladatokon ezúttal ketten osztoztak: a zenekar ekkor még csupán 15 éves Carl Wilsonja és a lemez producere, Nick Venet. Érdekes módon az USA-ban nem jelentették meg kislemezen a Summertime Blues-t, a Fülöp-szigeteken viszont igen, ahol máig ez számít az egyik leggyakrabban rádióadásba kerülő rocknótának.
Hep Stars – Summertime Blues (1964)
A svéd beat zenekar feldolgozása egyrészt attól érdekes, hogy sikerült túlságosan "sietősre" venniük a dal tempóját, másrészt ama tény miatt, hogy ez volt a bandában billentyűsként ügyködő, később pedig egy bizonyos ABBA-val poptörténelmet író Benny Andersson első stúdiófelvétele.
Blue Cheer – Summertime Blues (1968)
A már nevében is drogos, kemény hippi hard rockot nyomó San Franciscó-i alakulat 1968-as bemutatkozó anyagát, a Vincebus Eruptum-ot sokan – köztük számos világhírű zenész – az első heavy metal albumnak tekintik. Ennek oka elsősorban a Summertime Blues bivalyerős feldolgozásában keresendő: olyan gitárriffet helyeztek el ugyanis benne, amely a Led Zeppelin és a Black Sabbath számára egyaránt kijelölte a helyes irányt.
The Who – Summertime Blues (1970)
A mod rock királyainak Live At Leeds című 1970-es koncertalbuma köztudottan a valaha készült legjobbak közé tartozik, és egyik emlékezetes dala pont a Summertime Blues nyers energiától duzzadó adaptációja. A csapat 1964 óta játszotta rendszeresen Cochran szerzeményét a koncertjein; 1967-ben stúdióban is felvették, de az a verzió 1998-ig kiadatlan maradt. Legendás basszusgitárosuk, John Entwistle 2002-es halála óta a dal nem bukkan fel a Who élő repertoárjában, úgyhogy valószínűleg az Ökörnek becézett zenészlegenda személyes kedvence volt, a társai viszont nem rajonganak érte hasonló intenzitással.
T. Rex – Summertime Blues (1970)
Az ikonikus Marc Bolan és kompániája "glam-esen flegma akusztikus hippi folk" változatot készített Cochran slágeréből, amely a T. Rex Ride A White Swan című átütő sikerű kislemeze B-oldalaként látott napvilágot. 1970 és 1972 között rendszeresen felbukkant Bolanék koncertrepertoárjában, élőben viszont mindig rockosan, elektromos gitárral adták elő.
Johnny Hallyday –

La Fille de l'été dernier /

Summertime Blues (1975)
A franciák Elvise – és egyben Eddie Cochranja – szintén előrukkolt a maga Summertime Blues-ával, és ahogy sok egyéb nagy amerikai rock and roll slágert, ezt is anyanyelvén adta elő, igazi kuriózumot teremtve ezáltal a gyűjtők számára. A dal természetesen listavezető lett Franciaországban. Mi mást is várhatunk egy Johnny Hallyday-verziótól?
A magyar zenehallgatók többségének Olivia Newton-John kizárólag a Grease című rock and roll filmből ismerős, amelyben John Travolta duett- és táncpartnereként vált a jampi életérzés jelképévé. Az ausztrál énekesnő "mellesleg" hazájának legsikeresebb női előadója, aki milliókat adott el county pop-rock műfajú szólóalbumaiból. A Summertime Blues-t ő dolgozta fel a legbájosabban, ami nem is csoda, elvégre a rockszakma egyik legbarátságosabb és legvidámabb sztárjának számít, akiről minden kollégája csak szuperlatívuszokban tud nyilatkozni.
Brian Setzer – Summertime Blues (1987)
1987-ben került a mozikba a La bamba című zenés film, amely a tragikusan fiatalon elhunyt Ritchie Valensnek állított emléket, akit Lou Diamond Phillips alakított. Valens pályatársát, Eddie Cochrant az 1980-as években a rockabilly műfaját tetszhalotti állapotából felélesztő Stray Cats főnöke, Brian Setzer játszhatta le, így természetesen a nagy előd legnagyobb slágerét is rögzítette a soundtrack-hez.
Rush – Summertime Blues (2004)
A prog rock lemezmilliomos kanadai éllovasai 2004-ben a Feedback című 8 számos EP-vel tisztelegtek fő hatásaik és kedvenc retro előadóik előtt. A Summertime Blues sodró lendületű feldolgozását nem Cochran eredetijéből, hanem a Blue Cheer-féle "ősmetálosítottból" készítették, ugyanis az amerikai power trió volt a kanadai hangszermágus trió egyik legnagyobb kedvence fiatalkorukban.