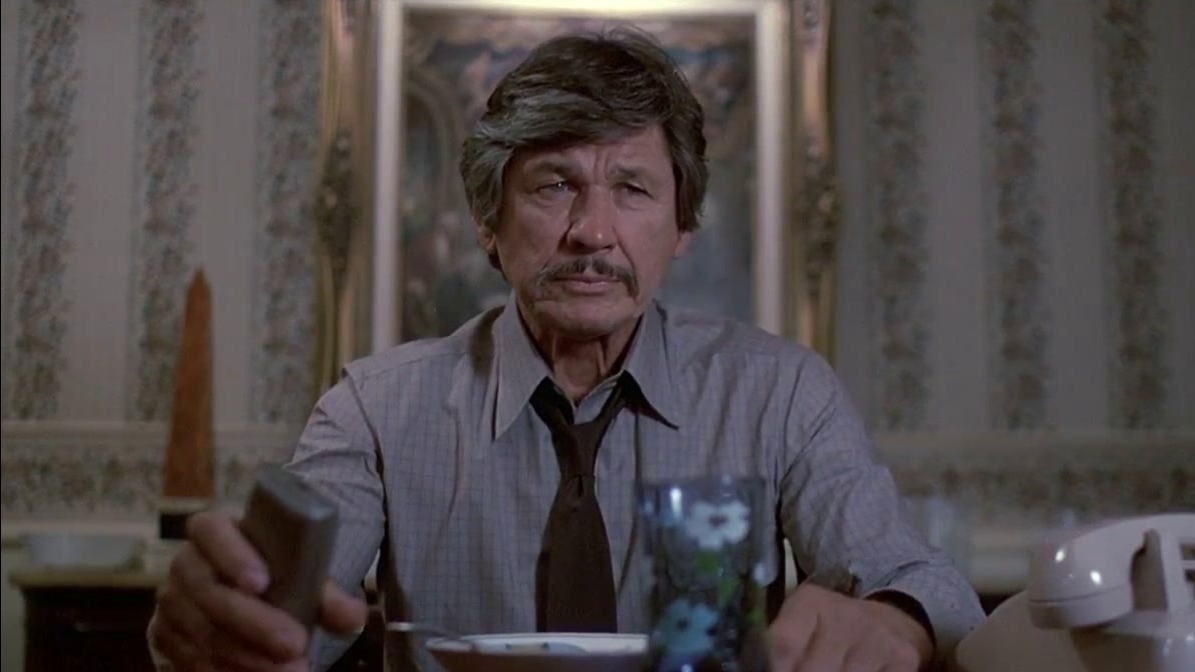 1981-ben Jimmy Page, a Led Zeppelin gitárosa eljutott a mélypontra: A zenekara a legendás dobos, John Bonham halála után feloszlott, ő pedig életveszélyesen intenzív drogozásba és vedelésbe kezdett. Bár megpróbált új csapatot alakítani a Yes tagjaival, ez a kísérlete kudarcba fulladt, és úgy érezte, ha a tudatmódosító szerek nem veszik el az eszét, abba fog beleőrülni, hogy nincs min dolgoznia. Ekkor azonban a segítségére sietett Michael Winner filmrendező, aki épp zeneszerzőt keresett készülő filmjéhez, a Bosszúvágy 2-höz. Így történhetett meg végül, hogy a Charles Bronson által alakított önjelölt igazságosztó második alkalommal Jimmy Page riffjei által megtámogatva ereszthetett golyókat a legaljasabb bűnözőkbe.
Winner így emlékezett vissza az Uncut magazinnak adott interjújában arra, hogyan került a látóterébe Jimmy Page:
A producerpáros (Menahem Golan és Yoram Globus) a megkérdezésem nélkül úgy döntött, hogy Isaac Hayes soul szupersztárral íratja meg a Bosszúvágy második részének zenéjét. Nem szeretem, ha nem kérik ki a véleményemet olyan fontos dolgokkal kapcsolatban, mint a saját filmem zenéje, úgyhogy elkezdtem gondolkodni azon, ki lenne az a híresség, akit elfogadnának Hayes helyett. A fickó mellett leginkább az szólt az ismertsége mellett, hogy ingyen vállalta a megbízást valamilyen furcsa okból kifolyólag. Ez sem tetszett nekem, mert nem hittem, hogy ingyen ugyanolyan jó munkát végez majd, mint akkor, ha megfizetik. Talán tartozott Golanéknak, és így akart törleszteni. Tehát törtem a fejemet, kit válasszak helyette, és hirtelen fény gyúlt az alagút végén: Hiszen Jimmy Page a szomszédom! Sosem beszéltünk egy szót sem, még csak nem is köszöntünk egymásnak, viszont folyton egyszerre nyírtuk a füvet a kerítés két oldalán. Rájöttem, hogy Jimmy az én emberem.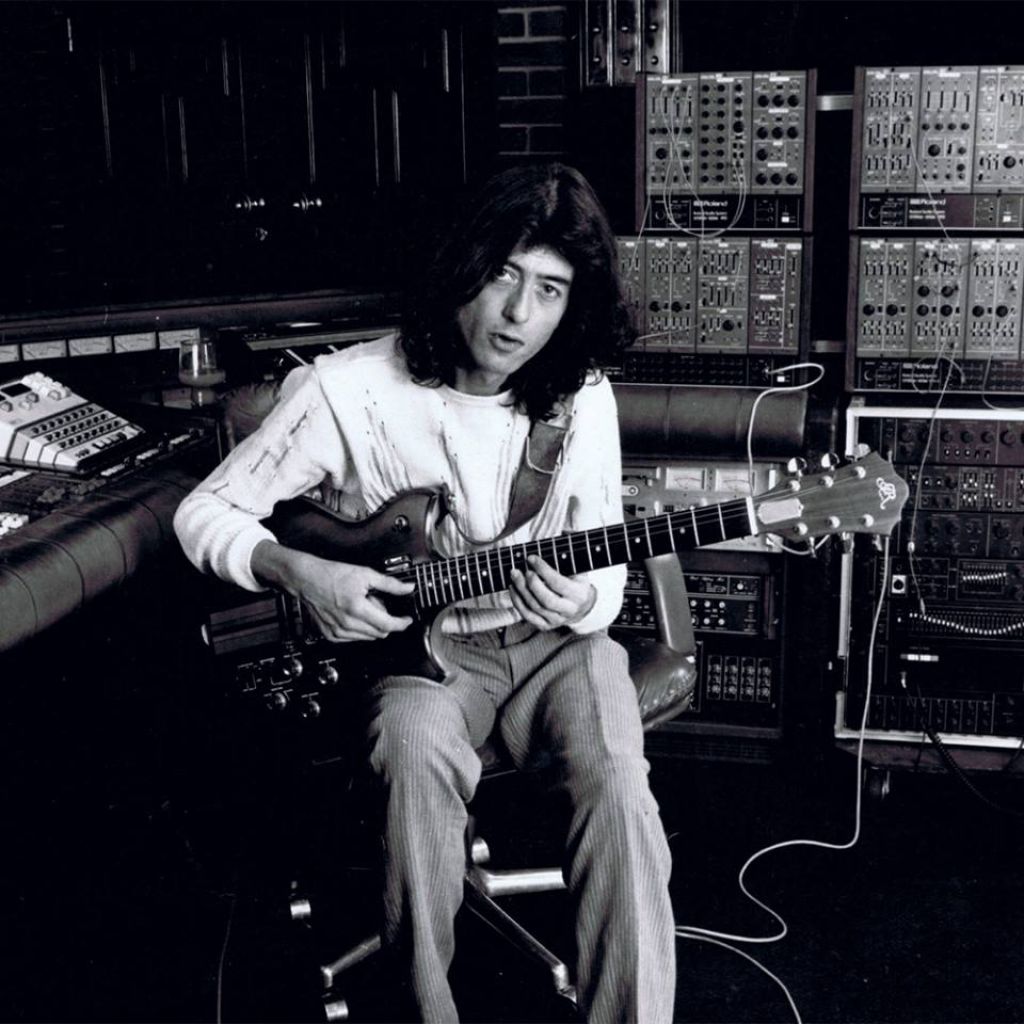 Winner kapcsolatba lépett Peter Granttel, Page menedzserével, aki utólag azt nyilatkozta, igen valószínű, hogy a direktor által felkínált munka mentette meg a Led Zeppelin gitárosát attól, hogy a féktelen önpusztítás áldozatává váljon.
John Bonham halála után teljesen kicsúszott Jimmy lába alól a talaj. Nyugodtan kijelenthetjük, hogyha nincs Charles Bronson, akinek a lövöldözései alá Jimmynek komponálnia kellett valamit, a világ egyik legjobb gitárosa már rég halott lenne. Ez a filmzene-album adta vissza Jimmy önmagába vetett hitét. Kőkeményen dolgozott rajta, a drogozását is minimálisra csökkentette. Ha dologtalanul üldögélt volna tovább otthon, hamarosan biztos túladagolja magát.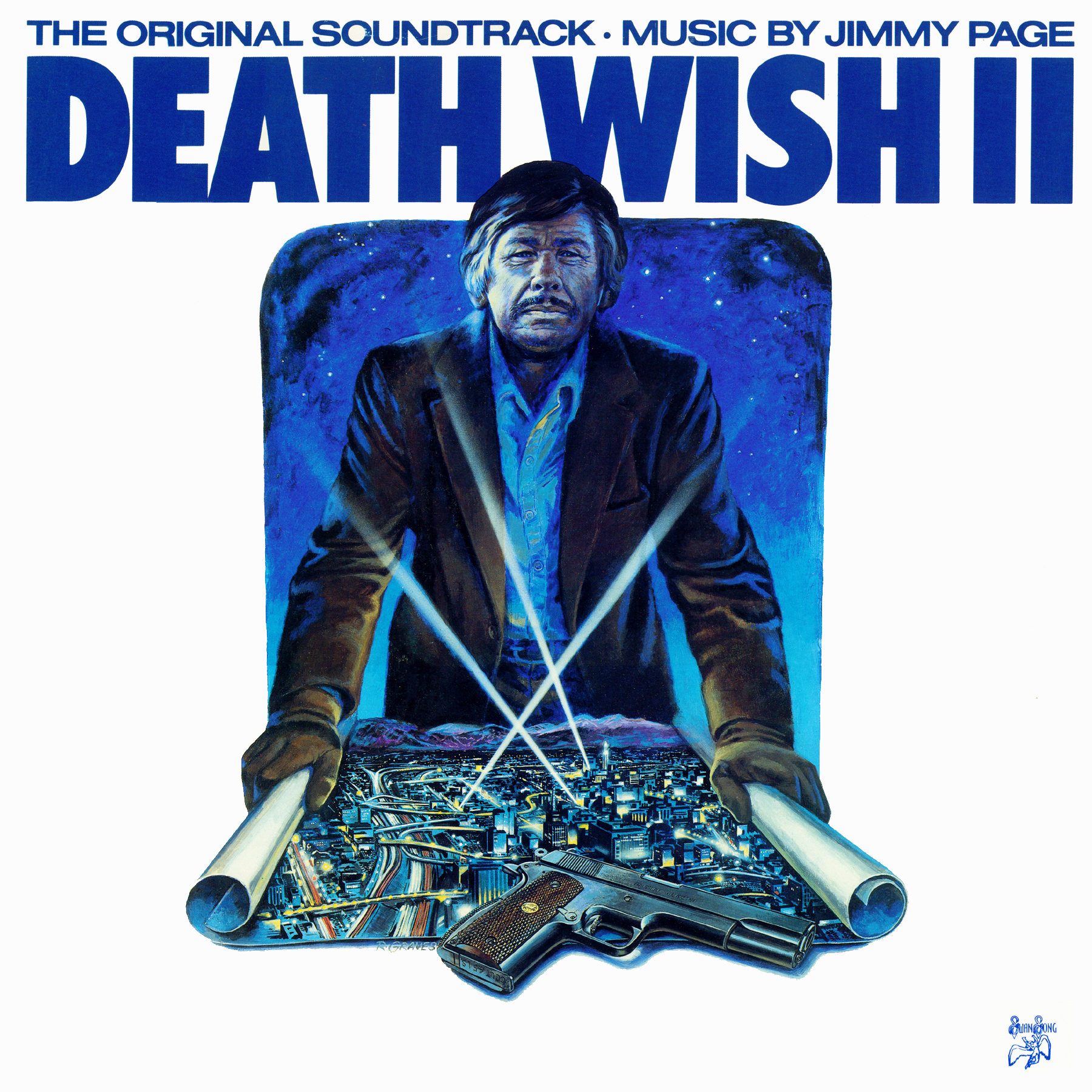 Page 100 ezer dollárért vállalta a Bosszúvágy 2. zenéjének elkészítését, ami már akkoriban is jelképes összegnek számított egy ekkora sztár esetében, de mégis lényegesen több volt (enyhén szólva), mint a semmi, amit Hayes kért a szolgálataiért. Ráadásul a soul mestere több filmzenét is írt már korábban (a Shaft-ért például Oscar-díjat kapott), míg Page semmiféle tapasztalattal nem rendelkezett e téren, leszámítva azt a fiaskót, amikor képtelen volt értékelhető muzsikát összehozni barátja, Kenneth Anger okkult rövidfilmjéhez, a Lucifer Rising-hoz. Mindennek ismeretében már nem csodálkozhatunk azon, hogy Golanék nem repestek az örömtől, amikor Page bejelentette, hogy teljesen egyedül akar dolgozni a zenén, és nem enged semmiféle beleszólást.
Azonban a gitárfenomén néhány hét elteltével olyan tökéletes soundtrack-kel állt elő, amelytől Winnernek szinte elállt a lélegzete:
Fantasztikusat alkotott, minden a helyén volt, egy másodpercet sem kellett rajta igazítani; a zene pont ott szólt mindig, ahol kellett, és pont addig, amíg szükség volt rá. Jimmy olyan munkát tett le az asztalra, mintha egész addigi karrierje során csak ilyesmivel foglalkozott volna. A legeslegjobb filmzene-szerző, akivel valaha dolgoztam. Annyira imádtam, amit hallottam, hogy amikor pár évvel később a Bosszúvágy 3-at forgattuk, a Jimmy által készített felvételek közül többet is újrahasznosítottam hozzá.
A Bosszúvágy 2. zenéje valóban remekül sikerült, Page olyan zenei területekre is elkalandozott ezúttal, ahol korábban nem járt. A kísérletező kedvű muzsikus jellegzetes gitárjai mellett gitárszintetizátorokat használt, valamint egy szimfonikus zenekart is a rendelkezésére bocsátottak. A dobosa ezúttal Dave Mattacks volt a Fairport Convention-ből (az egyik legfőbb brit folk rock banda), a basszusgitárosi szerep pedig a Bay City Rollers David Patonjának jutott. Az instrumentális szerzemények közül különösen lenyűgöző a komplex és trükkös The Chase, valamint a funk és a hard rock keresztezéséből született Jam Sandwich és a Big Band, Sax And Violence (Page állítása szerint mindkettőt az Isley Brothers It's Your Thing-je ihlette).
A Hotel Rats And Photostats-ban a Led Zeppelin gitárosa Bernard Hermann-ná lényegül át, és ugyanolyan nyugtalanító témákat szabadít ránk, mint amilyenek a neves komponista Alfred Hitchcock filmjeihez írt tételeiben bukkannak fel. Három dalban hallható ének: a Who's To Blame-ben és a Hypnotizing Ways (Oh Mamma)-ban a Colosseum Chris Farlowe-ja, a City Sirens-ben pedig Gordon Edwards, a Pretty Things egykori gitáros-billentyűse jóvoltából. Mindhárom erős darab, Farlowe-val Page később Outrider című 1988-as szólóalbumán is együtt dolgozott.
Jimmy Page és a 2013-ban elhunyt Michael Winner a Bronson-filmeknek köszönhetően jó barátok lettek, és gyakran szerveztek közös programokat. Winner a következőket mondta bensőséges viszonyukról:
Egyszer együtt nyaraltunk családostul Barbadoson, és megtanítottam Jimmyt úszni, ugyanis sohasem merészkedett addig sem medencébe, sem tengerbe. Több képem is van itthon arról, ahogy oktatom: fogom a kezét, és pancsolunk. Néha előfordul, hogy elkezdünk beszélgetni a kerítést támasztva, és azon kapjuk magunkat, hogy lement a Nap. Amikor Jimmy először becsengetett hozzám, olyan vékony volt, hogy a leggyengébb szellő is messzire fújta volna. Tudtam, hogy drogozik, és egyik vad partit rendezi a másik után a furcsa barátnőivel (engem is invitált ezekre, de sosem éltem a lehetőséggel), és csak reméltem, hogy egyszer észhez tér. Így is lett: ma már olyan tiszta, mint a patyolat, nem csak nem kábítózik többé, de az ivással is felhagyott. Sőt megszállott kocogó lett belőle, minden egyes nap az ablakom alatt fut el. Megkért, hogy ne meséljek erről soha, mert ártana a züllött rocksztári hírnevének, ha kiderülne, de sajnos nem tudom nem kifecsegni. Biztos meg fogja érteni…