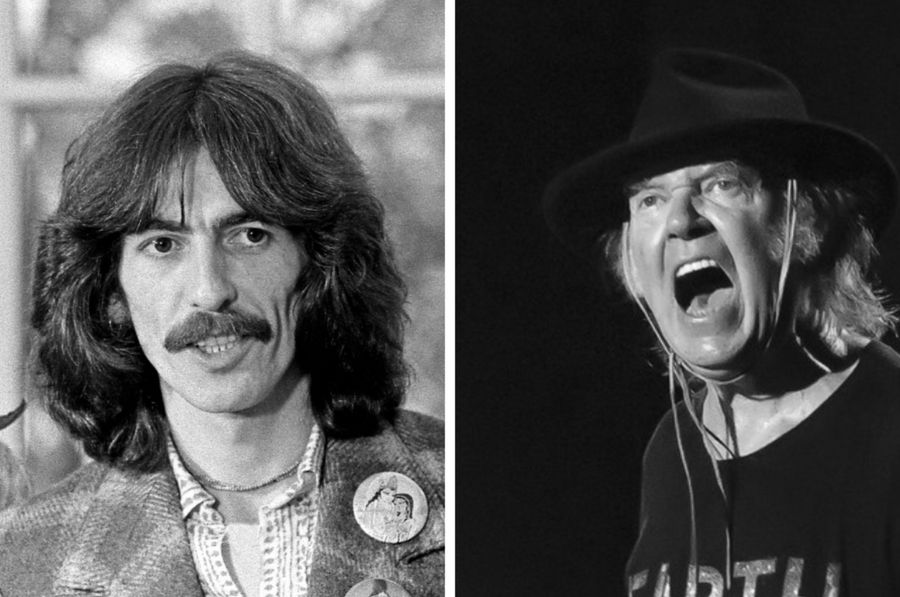 George Harrison számít a rocksztárok közül az egyik legfőbb úriembernek, akinek szinte soha senkiről nem volt egy rossz szava sem, a mondandóját pedig mindig rendkívül választékosan fogalmazta meg. Legalábbis a nyilvánosság előtt… A napokban több külföldi sajtóorgánum is újra felemlegette azt a "házi" videofelvételt, amelyen a Beatles egykori gitárosa kifejezésre juttatja Kanada egyik legnagyobb zenei ikonja, Neil Young iránti megvetését.
A videó egy meg nem nevezett angliai stúdióban készült 1992-ben, amikor Dave Stewart, az Eurythmics tagja pont egy Harrison-nóta, az 1975-ös This Guitar feldolgozását rögzítette, George-unk pedig azért érkezett, hogy vokálozzon a dalban. Harrisonon és Stewarton kívül Chucho Merchán gitáros és a Boomtown Rats frontembere, a híres Live Aid koncertet szervező Bob Geldof tartózkodott még a helyszínen. Harrison először arról beszél a felvételen, hogy a Beatles While My Guitar Gently Weeps című általa írt dalának tempója Eric Claptonnak köszönhető, aki vendéggitárosként ragaszkodott hozzá, hogy sokkal lassabban játsszák az eredetileg tervezettnél. Utána pedig szegény Neil Young kerül terítékre, aki a jelek szerint nem lopta be magát Harrison szívébe.
Geldof megkérdezi Harrisontól, hogy hallotta-e Young Around The World című 1987-es dalát, amire azt a választ kapja a slide gitár ex-Gombafejű mesterétől, hogy
Nem rajongok Neil Youngért.
Geldof tovább feszegeti a témát, és arról kezd áradozni, hogy mennyire jó gitáros Young, mire Harrison így szakítja félbe:
Utálom, ahogy játszik, ki nem állhatom.
Ezt követően Harrison parodizálni kezdi Young gitározási stílusát, majd (egy Bob Dylan-koncerten történt közös jelenésükre utalva) kijelenti:
Legalább jót lehet röhögni rajta. Egyszer jammeltünk vele valahol. Szörnyülködve hallgattam, mit csinál, és végül odakiáltottam Ericnek – aki a dal közepén szólózott −, hogy mégis mi folyik itt… Mire ő: "Ne tőlem kérdezd, nem velem van a gond."
Geldofnak esze ágában sincs felhagyni Young védelmével, és kifejti, hogy imádja a kanadai muzsikuslegenda Rust Never Sleeps című 1979-es koncertalbumát. Harrison reakciója:
Elsősorban a hangja irritál. Tetszett pár szerzeménye, de a hangja borzalmas… Még az enyémnél is rosszabb!
Az utálat nem volt kölcsönös, Young ugyanis több interjúban is azt nyilatkozta, hogy nagy Beatles-rajongó, és az első dal, amit valaha közönség előtt énekelt, a Nagy Négyes It Won't Be Long-jának feldolgozása volt. 1999-ben Young iktatta be Paul McCartneyt ünnepélyes keretek között a Rock And Roll Hall Of Fame-be, és többször is felléptek együtt az utóbbi évtizedekben, mivel tisztelik egymás munkásságát.