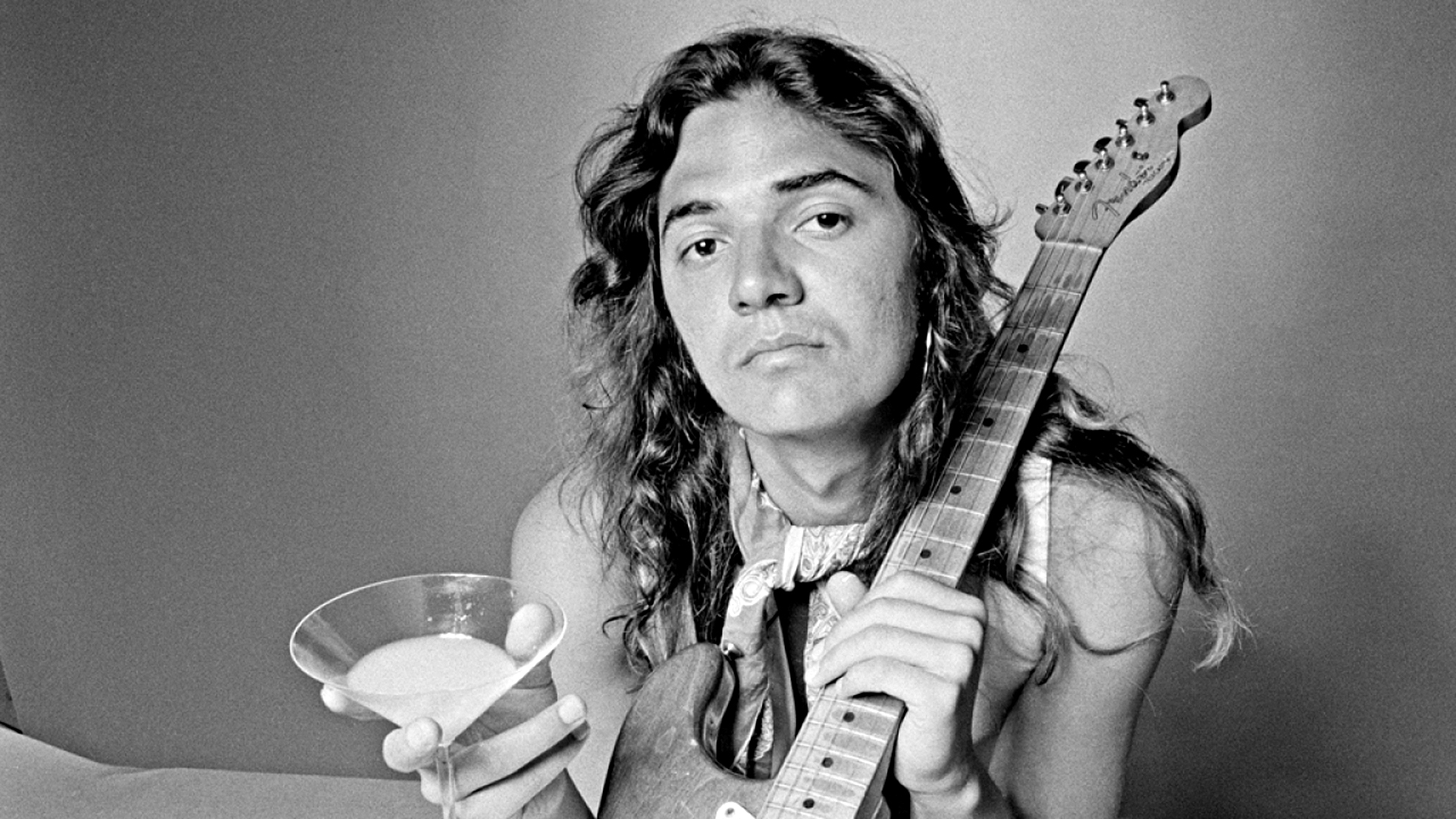 1951. augusztus 1-én született a legendás gitáros, Tommy Bolin, akinek súlyos drogfüggősége okán még az sem adatott meg, hogy a hírhedt 27-esek klubjának tagjává váljon, ugyanis 1976-ban, 25 éves korában hunyt el. Rövid földi léte során két ikonikus és meghatározó húrnyűvőt váltott élvonalbeli bandák élén: Az Eagles-be távozó Joe Walsh helyére érkezett a James Gang-be, utána pedig a csapata funk és soul irányba történő elmozdulásán kiakadó Ritchie Blackmore (aki nem épp "afroamerikai-barát" módon így fejezte ki nemtetszését kollégáinak: "Nincs kedvem cipőpucoló zenét játszani.") szerepét vette át a Deep Purple-ben.
Évekkel ezelőtt hatalmas vitát kavartak a Deep Purple internetes rajongói fórumain felbukkanó állítások, miszerint az amerikai Bolin csupán a sok pénz és a világhír reményében csatlakozott a hard rock brit nagyágyúihoz, a zenéjük enyhén szólva hidegen hagyta őt. A basszusgitáros-énekes Glenn Hughes-ban azonban sajnos "drogtestvérre" akadt az együttesen belük, amivel megpecsételte a sorsát, ráadásul Hughes a Come Taste The Band című Purple-album turnéján összeszűrte a levet Bolin imádott barátnőjével, a modell Karen Huleberryvel, amitől a gitáros még a korábbinál is féktelenebb önpusztításba kezdett. Hughes – aki azt nyilatkozta, hogy csak Bolin és Huleberry szakítását követően jött össze a csinos hölggyel – 1977-ben, fél évvel zenésztársa halála után feleségül vette Huleberryt. A Deep Purple 1976 márciusában oszlott fel, hogy aztán 1984-ben ismét Ian Gillan részvételével éledjen újra hamvaiból. Bolin második szólóalbuma, a kitűnő Private Eyes turnéja közben hunyt el 1976 decemberében, miközben már tagja volt kedvenc csapatának, a misztikum övezte Covennek, amellyel több dalt is rögzített demo formában.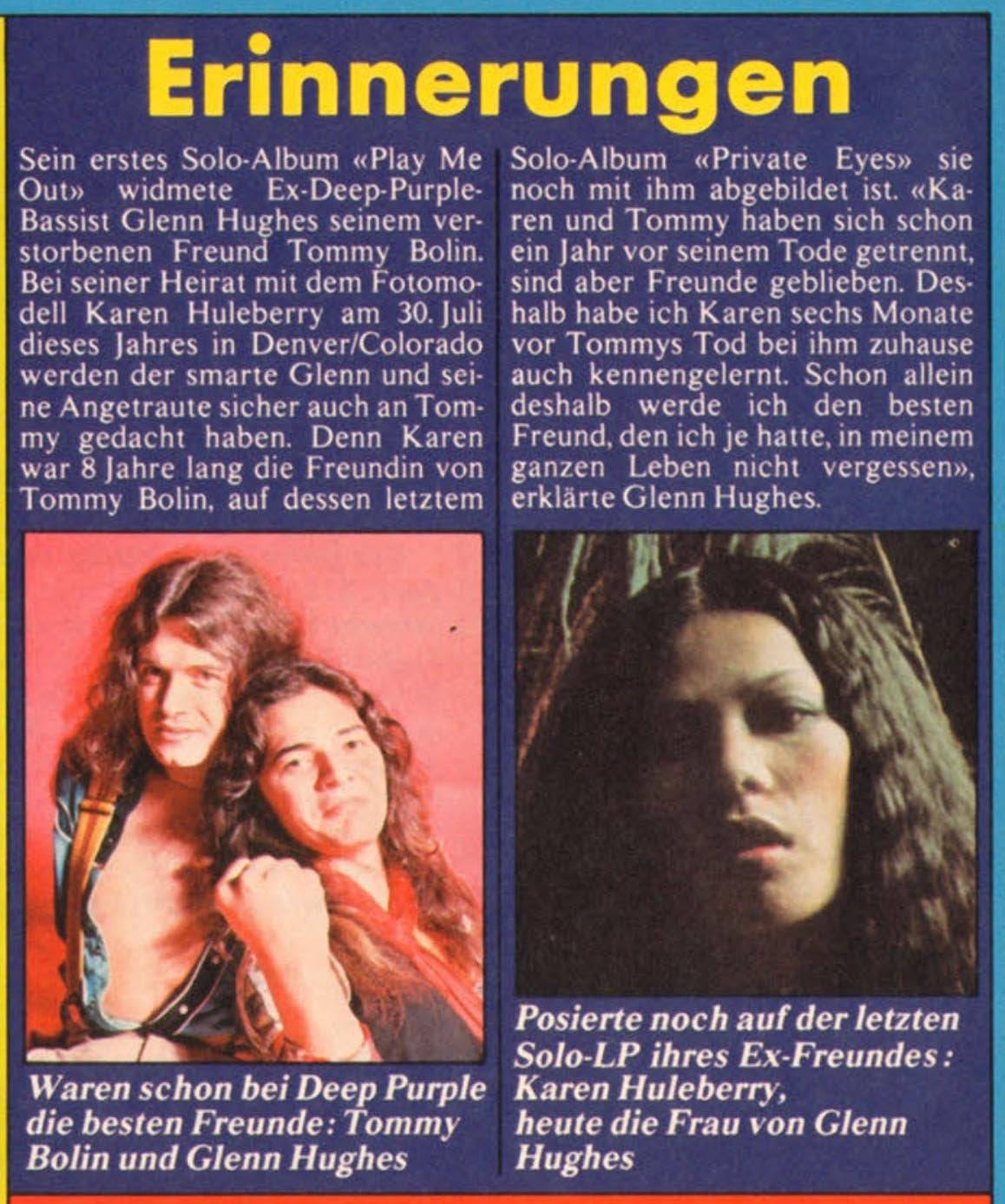 A hitetlenkedő netes háborgók arra késztették Tommy Bolin öccsét, a dobosként dolgozó Johnnie-t hogy tiszta vizet öntsön a virtuális tér poharába. Johnnie elmondta, hogy a hír igaz: Bolin valóban a világ első nyíltan sátánista rockzenekarának számító Covennel dolgozott halála előtt, amelynek tagjait testvéreiként szerette. A Deep Purple-be is a Coven énekesnője, Jinx Dawson ajánlására került, aki rendszeresen szervezett szemrevaló nőket felvonultató okkult orgiákat a rockszakma krémjének. Ezeken a forró hangulatú összejöveteleken olyan úriemberek fordultak meg, mint a Kansas fő dalszerzője és gitárosa, Kerry Livgren (még mielőtt fundamentalista kereszténnyé vált volna), vagy Jon Lord, a Deep Purple Hammond-királya. Utóbbival Dawson intim viszonyt alakított ki, és ennek köszönhetően jutott Bolin bizonyítási lehetőséghez a brit alakulatban.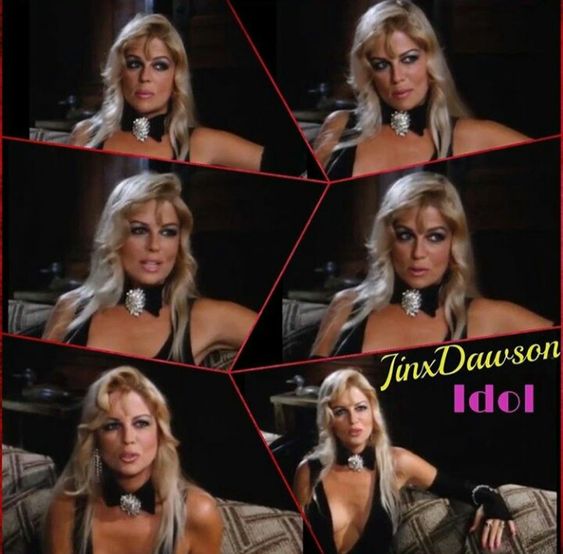 Az akaratgyenge muzsikus rengeteg időt töltött Dawson házában, ahol mindig rendre leállt a drogokkal, ám az énekesnő tudta, hogy végzetes hibát követett el azzal, hogy barátját egy olyan csapatba protezsálta be, ahol egy hozzá hasonlóan nagy és felelőtlen drogmániákus tevékenykedik Glenn Hughes személyében, aki csakis rossz hatással lehet Bolinra. A Come Taste The Band turnéja során a gitáros rendszeresen felhívta Coven-es barátait, és közölte velük, hogy elege van a Deep Purple számára érdektelen zenéjéből: alig várja, hogy élőben adhassa elő az új szólólemezét (amelynek turnéja a Purple-lel kapcsolatos kötelezettségei miatt csúszott) és végre elkészítse első albumát a Covennel is. A szólólemez megturnéztatására még sor kerülhetett, a Covennel azonban már csupán néhány dalkezdeményt tudott felvenni, köztük a baljóslatú Black Swan-t (amely állítólag részben róla szól). Johnnie Bolin véleménye szerint: 
Ha a bátyám még a turné megkezdése előtt kiállt volna a Deep Purple-ből és Jinxékkel marad, még ma is élne.
Az 1967-ben alakult chicagói Coven tagjai olyannyira komolyan gondolták okkult küldetésüket, hogy a vérükkel írták alá a bemutatkozó albumuk lemezszerződését (jócskán megelőzve ezzel a később hasonlóan eljáró Manowart). A Witchcraft Destroys Minds And Reaps Souls című 1969-es anyag nem csupán korábban sosem hallott vészjósló rockmuzsikát rejt, de egy bizonyos brit bandára is nagy hatást gyakorolhatott, ugyanis a lemezt egy Black Sabbath című dal nyitja, a Coven ekkori basszusgitárosát pedig Oz Osborne-nak hívták. 1969-ben a Covennek többek közt egy Earth nevezetű blues rock banda is bemelegítette a közönséget előzenekarént, amely aztán nem sokkal később felvette a Black Sabbath nevet, és Ozzy Osbourne (akit állítása szerint már kamaszkora óta Ozzynak becéznek) frontemberkedésével, valamint okkult szövegvilágú kemény zenéjével rocktörténelmet írt. A Black Sabbath második énekese, Ronnie James Dio előszeretettel mutogatott "ördögvillát" a csapat koncertjein, és magát nevezte meg a szokás elterjesztőjeként. Jinx Dawson már 1969-ben ugyanezt művelte, amiről a korabeli koncertbeszámolók is megemlékeztek.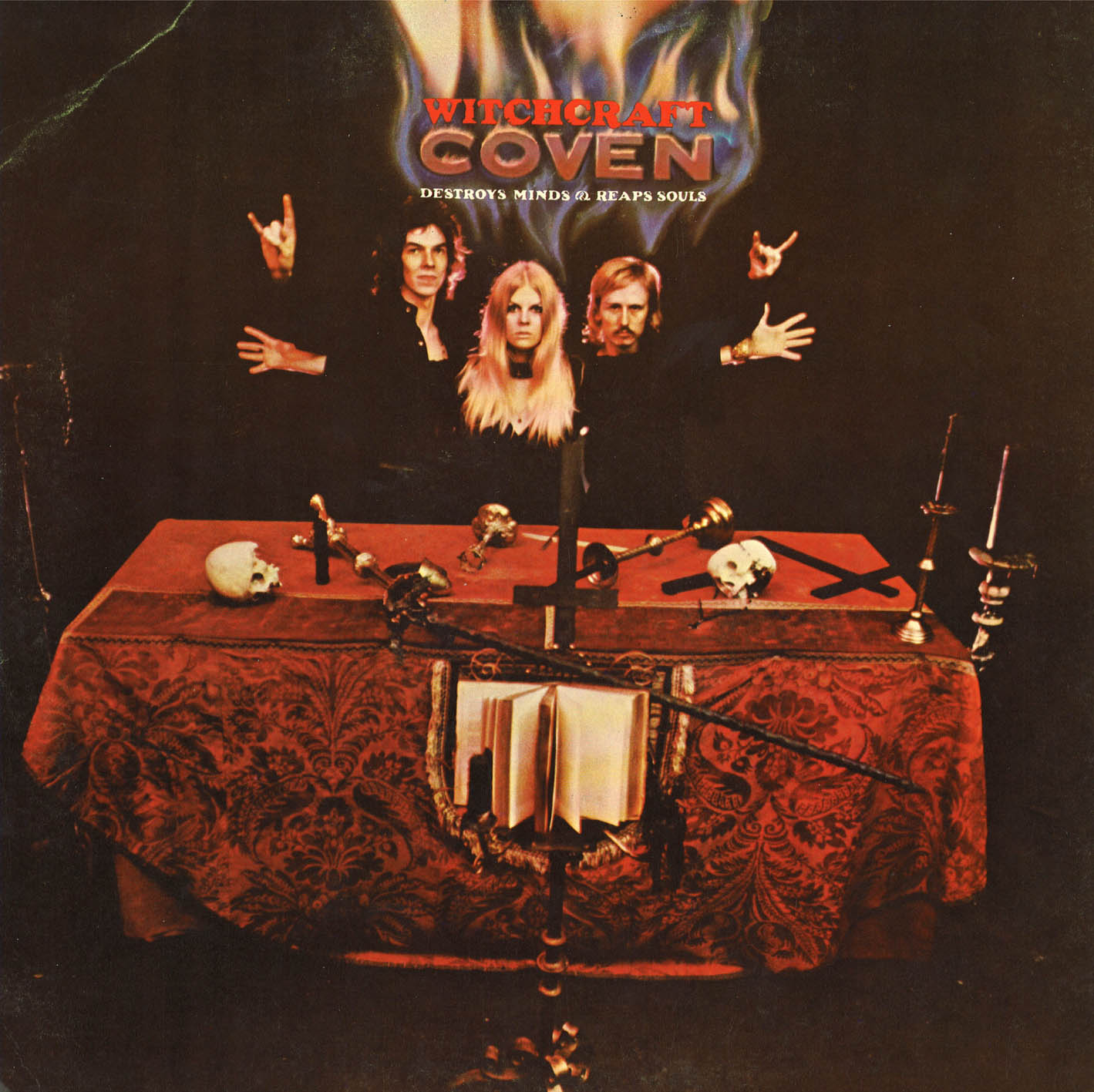 A Witchcraft Destroys Minds And Reaps Souls az 1969-es év egyik legkelendőbb albuma volt egészen addig, amíg a Charles Manson-per kapcsán ki nem szivárgott egy fotó, amely a Sharon Tate és barátai meggyilkolását elrendelő szektavezért még szabadlábon ábrázolja, amint a Tower Records épülete előtt álldogál, hóna alatt a Coven albumának frissen vásárolt példányával. A lemezt kiadó Mercury Records vezetői úgy vélték, a cégüknek nincs szüksége efféle negatív reklámra, bármekkora eladási mutatókat eredményezzen is, ezért azonnal ejtették a Covent, az anyag forgalmazását pedig leállították, és a boltoktól is visszakérték a már kiszállított, de még nem értékesített példányokat. A Coven még két, az elsőnél kevésbé okkult hangvételű albummal jelentkezett a hetvenes évtizedben, majd feloszlott. Jinx Dawson ruhatervezőként definiálta újra magát: olyanok viselték a portékáit, mint Jimmy Page, Cher, a Mötley Crüe, Barbra Streisand és Michael Jackson. 2017-ben felélesztette a Covent – az új felállásban rajta kívül egyetlen őstag sem játszik −, amellyel egészen a koronavírus-járvány kitöréséig kitartóan turnézott.